HAM GROUP, leader in the integral service of CNG, LNG AND NGV
HAM Group was founded in 1980 and since then we have always opted for compressed natural gas (CNG) and liquefied natural gas (LNG), as a clean, safe and environmentally friendly energy, which manages to minimize the negative impact by reducing the emission of nitrous oxides, sulfur oxides and fine particles that affect air quality; regarding the use of fossil fuels, petroleum derivatives, which are much more polluting.
Currently, HAM is a leader in the comprehensive service of liquefied natural gas and compressed natural gas, both in industries and in mobile-vehicular, maritime, etc., betting on R&D and facilitating more effective and sustainable improvements in facilities. , supply of natural gas and bunkering services in the naval sector. We have become a reference for other companies in the sector that are committed to CNG and LNG as an alternative to fossil fuels.
If you need clean, safe and more environmentally friendly energy, we offer solutions tailored to your needs. Fill out our contact form or call us at 937704760 where we will attend you personally.
CNG-LNG SERVICE STATIONS FROM GROUP HAM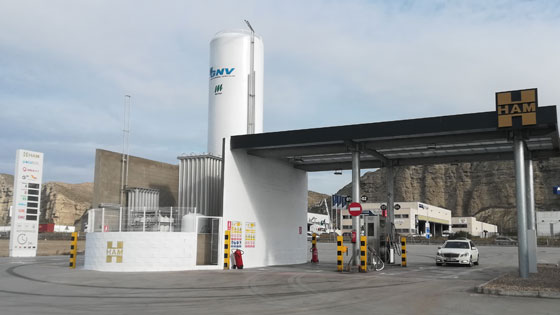 HAM Group currently has a network with more than 80 service stations, mobile and fixed, which are located at strategic points around Spain and the rest of Europe, which makes it possible to make liquefied natural gas and compressed natural gas available to all our clients as an alternative fuel, respectful with the environment and that saves between 30-50% compared to traditional fuels.
In our CNG and LNG service stations you can refuel 24 hours a day, 365 days a year and you can pay with any debit or credit card. If you are self-employed or have a company, you can find out about the HAM card for professionals. Learn about the different possibilities and advantages that we put at your disposal.
In 2020 we are going to carry out more than 30 projects to continue expanding the network of compressed natural gas and liquefied natural gas stations, both in Spain and in the rest of Europe; designing, building and launching own and third-party refueling stations.
HAM GROUP SOLIDARITY DONATIONS PROGRAM
At HAM Group we have created the Solidarity Donations Program with the aim of being participants in the improvement of the most vulnerable groups in society, helping with a monthly financial contribution, or equivalent action, to non-profit organizations that promote cooperation projects and solidarity. We believe in and bet on people, their lives and their stories.
We currently collaborate with Open Arms, whose main mission is to protect with its presence at sea those people who try to reach Europe fleeing armed conflicts, persecution or poverty. We also collaborate with Arrels Fundació, that cares for and guides homeless people who live on the streets of Barcelona. And we help the Pasqual Maragall Foundation in its objective of achieving the early detection of Alzheimer's, to improve the quality of life of those affected and their caregivers.
Natural Gas Stations
The service stations of General de Gasolineras, integrated into the HAM, are offering the possibility to all its customers to refill premium compressed natural gas (CNG) and liquefied natural gas (LNG) at the most competitive price on the market today.
Regasification Satellite Plants
HAM designs, builds and takes care of the maintenance of Regasification Satellite Plants (PSR) for industries and towns that the gas pipeline network has not yet reached, allowing them to enjoy all the advantages of natural gas.
Mobile Solutions
HAM Group HAM is in charge of the design, construction and operation of mobile stations for the supply of natural gas, for industrial consumption and to supply passenger cars and heavy vehicle fleets. We are present in Spain, Europe and South America.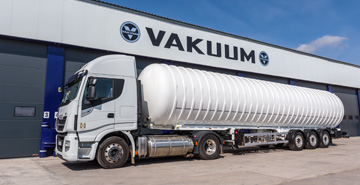 Road Transport
Our fleet, in continuous renewal and expansion, is specialized in the transport of cryogenic gases, highlighting air gases and methane or natural gas (LNG), in addition to many other products such as diesel, liquefied petroleum gases, fluorocarbons, sulfur carbon…
LNG Sales
We make an attractive LNG offer available to our clients, providing road coverage to the final consumer and large companies. The price per Kwh of liquefied natural gas is on average 20-40% cheaper.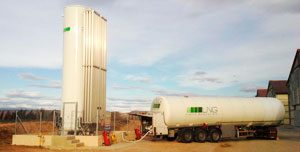 Comprehensive LNG Management
We manage the entire  liquefied natural gas (LNG) supply chain, offering a more efficient service and higher quality in intermediate processes. Outsource gas management responsibility and focus on other strategic points in your business.
Maritime LNG Projects
We offer solutions adapted to the use of LNG in the maritime sector. We have a professionalized structure for the development of the liquefied natural gas bunkering service, a growing activity within this sector.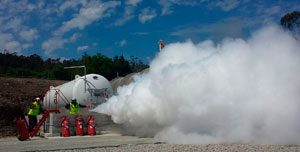 Inspections, repairs and maintenance
Aware of the importance of proper maintenance of natural gas installations, we put at your disposal our technical, trained and qualified team to carry out these tasks with the guarantee of professional service.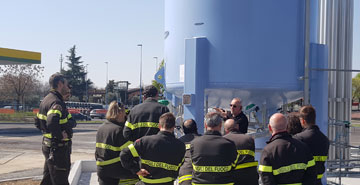 Training
HAM Group applies the "continuous improvement" philosophy in all its companies and in its environment, involving its clients and those people who in their day-to-day life will be involved with the use of natural gas.
HAM expanded LNG fleet
14/11/23
HAM Group and Transportes HAM have acquired 50 new Volvo tractor units with the latest driving aid safety elements, of which it has received 25 and expects to receive the rest during the next year
HAM Chauchina LNG Granada
24/07/23
HAM Group opens in Chauchina, Granada, a Liquefied Natural Gas service station, located next to the Andalusian regional highway A-92, Exit 225, Km. 25, (GPS: 37.195984, -3.802733)
HAM Benavente LNG - CNG
13/03/23
HAM Group opens in Benavente, Zamora, a new Compressed Natural Gas (CNG) and Liquefied Natural Gas (LNG) service station, at Cañada Berciana 9A, next to the A-6 and N-630, (GPS: 41.998699, -5.658452)
HAM La Jonquera LNG – CNG Girona
XX/XX/23
HAM Group opens in La Jonquera, Girona, a EDUX LNG (liquefied natural gas) and CNG (compressed natural gas) service station, located on the Ap-7, Km 7, towards France. (GPS: 42.405909, 2.874820)
CONTACT – HAM GROUP
Not sure what your business needs? Contact HAM Group
NEWSLETTER – HAM GROUP
Be the first to know about HAM Group news. Sign up to our Newsletter