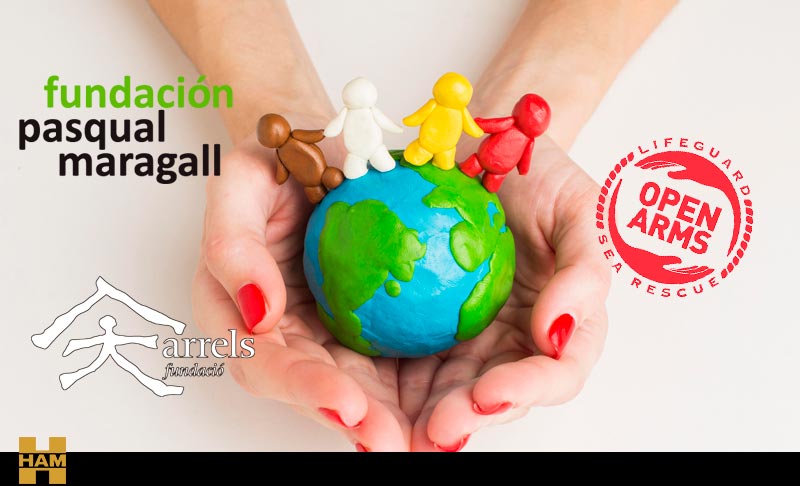 HAM Solidarity Donations Program
In HAM Group we created our Solidarity Donations Program in 2020, committing ourselves to participate in the improvement of the most vulnerable groups, helping with an economic contribution, or equivalent action, to non-profit entities with cooperation and solidarity projects.
We started our Solidarity Donations Program collaborating with Open Arms, a non-governmental and non-profit organization, a collaboration that we have decided to reinforce, with an increase in our donation, to cooperate in its mission of protecting and helping all those people who try to reach Europe. fleeing war conflicts, persecution or poverty, on boats that cross the Aegean Sea and the Central Mediterranean, as well as the outstanding work they are doing with actions aimed at helping the most vulnerable of the Ukrainian civilian population, victims of the war.
HAM Group has an extraordinary human team that makes up our 10 companies, all of which are benchmarks in different fields related to compressed natural gas and liquefied natural gas, ranging from the engineering sector, road transport of cryogenized products, sale of vehicular natural gas at our service stations, the design and manufacture of LNG semi-trailers, mobile LNG-LCNG service stations and the maritime sector.
At HAM we believe and are committed to people, their lives and their stories. We are proud to collaborate with entities that develop projects that allow us to continue helping people, such as Arrels Fundació, which provides social and health care and guides homeless people living in Barcelona, Fundació Pasqual Maragall, whose objective is the detection of Alzheimer's through science and innovation, to improve the quality of life of those affected and their families, as well as Open Arms, whose main mission is to protect the lives of the most vulnerable in emergency situations.